Government requests $596m after crop failure caused by erratic rainfall leaves 48,000 under fives severely malnourished and 8.2 million people at risk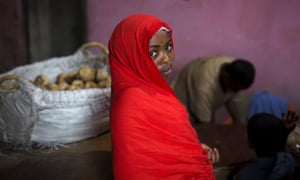 The Ethiopian government is calling for international assistance to help feed 8.2 million people after erratic rains devastated crop yields.
The government has allocated $192m (£124m) for food and other aid and is appealing for $596m in assistance from the international community for the remainder of 2015, said Mitiku Kassa, secretary of the Ethiopian disaster prevention and preparedness committee.
More than 300,000 children are in need of specialised nutritious food and a projected 48,000 more children under five are suffering from severe malnutrition, according to a government assessment conducted in September.
"We are seeing malnutrition rates go up in some of the host communities. We are looking at ways of reducing the stress levels to the host communities in Ethiopia by providing supplementary feeding that could bring the malnutrition levels down," he said.
Source:http://www.theguardian.com/global-development/2015/oct/15/ethiopia-appeals-international-assistance-food-insecurity